Trade and Supply Chain Innovator
TradeIX is the world's leading provider of technology for global trade and supply chains. We enable our customers, partners, and stakeholders to transact and exchange data smarter, faster, safer, and with more transparency. Our exceptional team of visionaries, trailblazers and builders empowers our ecosystem to digitally connect, conduct, and finance trade and supply chains in entirely new and transformative ways.
Who we are, how we work
With our headquarters in Dublin and offices in London and Singapore, TradeIX is a company challenging the status quo of siloed and manual-intensive trade and supply chain solutions. We supersede these highly inefficient systems with one that is better connected, thoroughly automated and makes use of an open infrastructure leveraging blockchain technology.
We are an award-winning Fintech company that is proud to work with some of the smartest financial institutions and companies in the world including ING, BNP Paribas, Accenture, DHL, AIG, R3, Microsoft, and Oracle Netsuite.
Marco Polo: The fastest-growing trade finance network
In 2017, TradeIX was selected as the technology platform for the Marco Polo Network, one of the largest and fastest growing trade and working capital finance network in the world.
The Marco Polo Network provides an open enterprise software platform for trade and working capital finance to financial institutions and corporates. It is built on an interoperable business network powered by open APIs and the Corda blockchain technology, allowing for the seamless and secure exchange of data and assets between participants.
"We believe that TradeIX is at an inflection point, delivering several new innovations that we believe will fundamentally change how banks are offering and managing trade finance solutions."
Jacques Levet, Head of Transaction Banking EMEA at BNP Paribas.
The first blockchain-enabled trade finance transaction ever
In 2017, we implemented the first ever blockchain-enabled trade finance transaction. See our blockchain case study explaining the trade finance solutions created for DHL, one of the largest logistics companies in the world.
The company's goal was to create a future-proof platform for trade and working capital initiatives with the following objectives:
Extend credit terms for their key clients without impacting Days Sales Outstanding (DSO) and optimize working capital
Broaden funding base and leverage transactional credit insurance
Deploy extensible trade finance solutions to their ecosystem
Easy and efficient connection to existing platforms through APIs
How it works:
Customer (A) requests services or goods from a Corporate Seller (B)
The Corporate Seller exchanges goods or services and sends invoice
Invoice and insurance eligibility are sent via API to the TradeIX Platform
The TradeIX platform then sends invoice details via API along the blockchain
Travelling electronically to the bank and insurer
Eligible invoice details are again obtained through the platform via an API
Banks and insurers receive and process relevant data securely
Allowing for early Payment to the corporate seller
We are passionate
At TradeIX, we are incredibly passionate about building next-generation open and distributed technology solutions that allow financial institutions to deliver exciting, highly secure and efficient trade finance solutions to their clients.
At our core – we are problem solvers; innovating, experimenting, and striving to move our technology forward at a fast pace. TradeIX is a global organisation with a growth mindset, as such, we are always looking for ways to improve ourselves and more importantly the scope of our products. Our company culture is grounded in an environment of innovation, collaboration and celebration.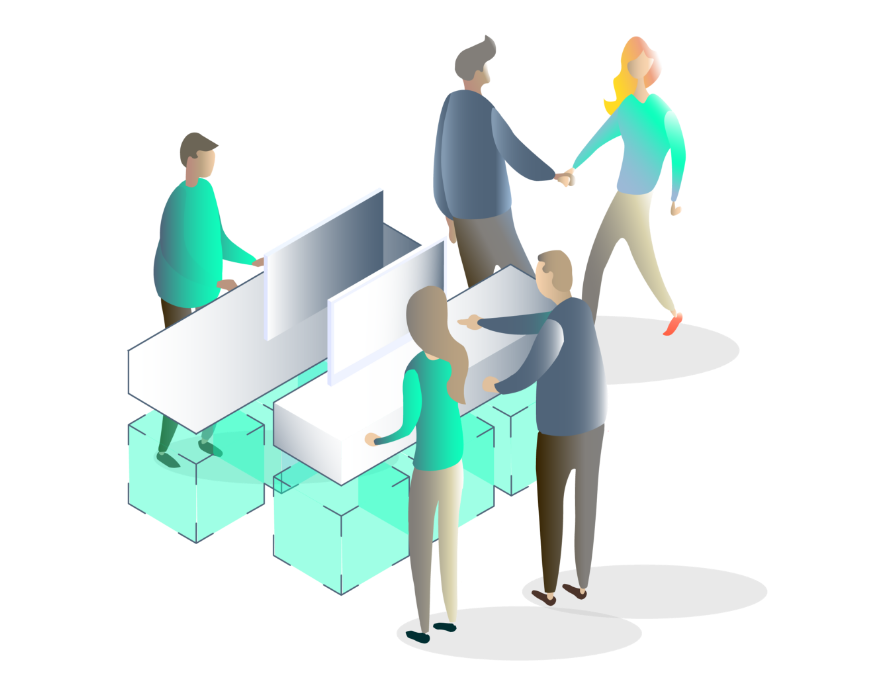 Join our team today
What makes us special is our people and how we work together. At TradeIX, every team member approaches our job with the same amount of pride and passion that embodies our distinctive culture. We pride ourselves in using the best technologies and value continuous learning on every level of our organisation.
If you're looking to work at a leading-edge company that is building the future of trade and supply chain finance, TradeIX is the right place for you. Keep an eye on our Careers page or contact us as new roles in sales, support, operations, engineering and product are available regularly open. We're continually recruiting for passionate and talented people from various backgrounds and at all levels.